Services
Supported by a fleet of 20 service vehicles and over 50 certified technicians, CTM offers a flexible service formula. Our technical team delivers professional service in all aspects of radio communication, from installation to programming to the maintenance of your communication equipment and systems. Our professional methodology also allows us to rapidly and efficiently install new systems.
Repairing radio communication equipment

Whether it concerns a walkie-talkie, a base radio, or a mobile radio, our technical team possesses the required certifications from all manufacturers to repair each piece of equipment. We ensure quick turnarounds as well as have a loaner program to help you get through during the duration of the repair.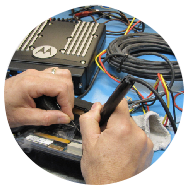 Upkeep and preventive maintenance

CTM offers a comprehensive maintenance program so that you may benefit from the use of equipment that functions at maximum capacity. Whether it be a simple cleaning, performance verification or a reconditioning of electronic components, our service offer will allow you to prevent equipment breakdown and thereby optimize your operations.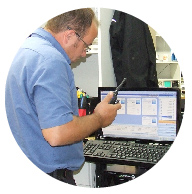 Installations

Our mobile installation team has the capability to provide quality installs right at your facility. Each one of our vehicles contains the necessary equipment to complete all types of installs, no matter how complex: heavy machinery, vehicle install, or base radio.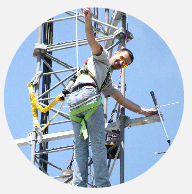 Programming

Upon purchasing new radio equipment or in order to restructure you communication scheme, our programming team will configure your radio fleet as per your requirements. New radio equipment is programmed within our facilities and, to simplify the process, CTM also offers the possibility to program your existing equipment directly within your place of operations. The programming is verified and tested before delivery.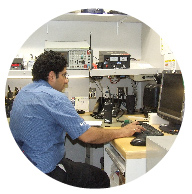 Communication systems and sites

CTM offers 24/7 technical support should your operations require a stable functioning communication system. CTM supports and maintains several public security systems, our own networks as well as our client's networks.